How we remove honeybees
Locate the Bee Hive
The first step is to locate the nesting area in the man made and or
natural structure Often considerable investigation with specialized tools is required to locate the exact location of the beehive within the structure.
Access the Bee's Nest
Once located, we develop a plan to access and remove the beehive in a way that will allow us to put everything back together after the beehive has been removed. At this point we make sure the surrounding area is clear of humans and pets. Then we begin opening the wall where the bees are nesting. As we open the wall we carefully capture any bees we encounter in a specialized honeybee vacuum.
Vacuum the honeybees
This honeybee vacuum carefully sucks the bees into a beehive box where they await their relocation to their new home site.
Remove the Honeycomb
Once the beeswax combs are reached, they are carefully cutout. Then the bees are vacuumed off the combs and the useable combs are wired into wooden frames that can then be placed into the newly relocated beehive.
We Reconstruct and Seal the Structure
After all the combs are cleaned out of the cavity and the bees are sucked into the honeybee vacuum, we reconstruct and seal the wall against recolonizing by other honeybees.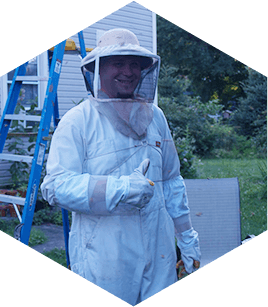 We Relocate the Honeybees
Once the honeybees within the beehive have been carefully sucked into our honeybee vacuum, they are ready to be relocated to our apiaries in Southern California.